What is Animal Retreat?Mary loves to take care of the animals on her farm. She likes preparing delicious treats and making each animal excited by giving them special new treats. Animals come in groups and take turns in coming on different weeks so they can all collect the treat they love.Help Mary and become a Grandmaster in making treats for the animals! Amazing reward awaits you for your hard work!When can I start participating in Animal Retreat?Animal Retreat is an exclusive feature on the newest farm – Maple Frontier. The earliest time that you can participate is when you get Early Access once it goes live on July 20, .
Simply click on a Globe button in the upper right corner of your Home Farm's screen, then click the "Travel" button to go to Maple Frontier.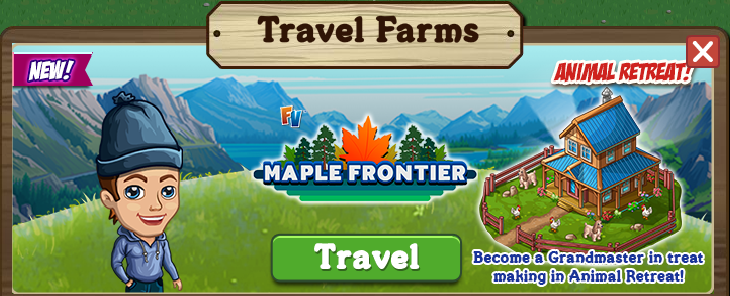 What will I get for purchasing the Early Access?By purchasing Early Access to Maple Frontier, you will be ahead of 1 week from other players to play the feature. You will also get the following exclusive items:
3 Exclusive Crops
Bonus Costume
Bonus Combine
Bonus Animal
Free Fuel
Entire Week of Free Power-Ups
Free Starter Pack
Not only that, you will also get a head start of treating 3 extra animals and 10 Points each day for the entire duration of the Early Access. Take advantage of this wonderful opportunity now!Early Access Free Starter PackOnce the Animal Retreat goes live on July 20, you can purchase the Early Access using your Farm Cash. Here's how your Free Starter Pack will look like in your Gift Box.
400 Points
18 Valley Observatory Parts
32 Treasure Parts
1 Pinus Tree
1 Canuck Bear
1 Canadian Villa
Note: Early Access will only be available for 7 days. Be sure to buy Early Access on the first day to maximize the rewards you can get!How can I access the Animal Retreat feature?In the Maple Retreat farm, you can access the Animal Retreat feature by clicking on its icon at the lower portion of the screen.
Alternatively, you can access the feature by clicking Mary inside the game board.
Can I choose which tasks to complete on the board?Yes. There are 6 tasks that you can choose from and you can do a maximum of 50 tasks a day. These tasks have to be started manually, but they are auto redeemed to provide you the freedom to choose if you want to do a task that is a bit harder for more treats or do faster/easier tasks for lesser treats.
Can I complete tasks using Farm Cash?Yes, simply click on the 'Complete' button below each task to complete it using Farm Cash.
Next, click on the 'Okay' button to proceed. You'll still get the equivalent set of candies in completing a task using Farm Cash.
You can replace a task you do not want to complete by clicking on the "Trash" button. The replacement task will appear after 15 minutes.
Note: You will not earn points for tasks that you've replaced.How do I play?Your objective is to make the animals happy by giving them treats. Complete all your tasks to earn normal treats. These normal treats are needed in making special treats which will give you more points.
You earn the following points by giving treats to animals:
x1 for normal treats
x3 for normal + special treats
Remember to give the animals the same set of treats they got the last time so they won't get sad.
By starting a new day, you can complete another 50 tasks to collect more treats.
Remember: The set of animals and treats will be changed weekly. Therefore, your Treat Inventory will be reset. Don't worry, the treats left will be converted into points at the start of your new week.How can I see my progress?Click on "Progress" below the Milestone Meter to see your total score and possible rewards.
What are the rewards?You can earn rewards from your Daily Meter after completing 5, 10, and 15 tasks from the order board.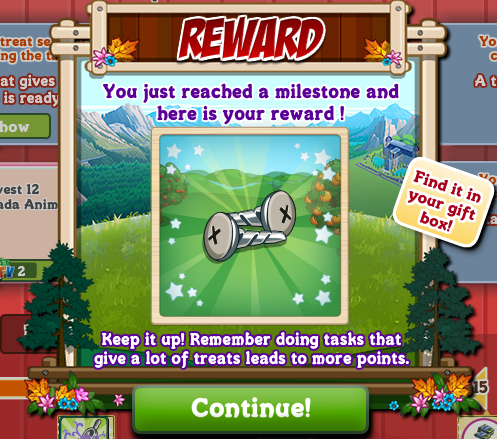 There are 4 Level Badges as a caretaker. Reach the required points and your badge will determine which of the final rewards you will win.
Novice – Simple Animal Ranch
Expert – Countryside Animal Ranch
Master – The Grand Animal Ranch
Grand Master – Simple Animal Ranch, Countryside Animal Ranch, & The Grand Animal Ranch
The final reward is harvestable for two weeks after receiving the reward and becomes a decoration after the harvesting functionality ends.

As you gain points, you will also unlock these Milestone rewards.

_-_-_-_-_-_-_-_-_-_-_-_-_-_-_-_-_-_-
FarmVille Game GUIDE