What is Tropical Market?The farmers are helping Emma to produce and sell exotic fruits for the customers. Kate shared her idea on how to double the yield, and that is by getting Escape Tokens! To earn Escape Tokens, you need to travel and complete quests in Tropic Escape.Emma is delighted to get double produce in her market and decided to give you generous rewards. If you collect a certain number of Escape Tokens, you will be rewarded with a land tile expansion. The more Escape Tokens you collect, the more land tiles you get!
When can I start participating in Tropical Market?Tropical Market is an exclusive feature on the newest farm – Coastal Countryside. The earliest time that you can participate is when you get Early Access once it goes live on August 31, .

Simply click on a Globe button in the upper right corner of your Home Farm's screen, then click the Travel button to go to Coastal Countryside.
What will I get for purchasing the Early Access?By purchasing Early Access to the Coastal Countryside, you will be ahead of 1 week from other players to play the feature. We are also giving away 20 Passion Fruits to sell every day for the entire duration of the Early Access. Take advantage of this wonderful opportunity now!
3 Exclusive Crops
Bonus Costume
Bonus Combine
Bonus Animal
Free Fuel
Entire Week of Free Power-Ups
Free Starter Pack
Early Access Free Starter PackOnce the Tropical Market goes live on August 31, you can purchase the Early Access using your Farm Cash. Here's how your Free Starter Pack will look like in your Gift Box.
400 Points
18 Seaview Tavern Parts
32 Treasure Parts
1 Tropical Sugarcane Tree
1 Fiery Dancer Deer
1 Pool Juice Bar
Note: Early Access will only be available for 7 days. Be sure to buy Early Access on the first day to maximize the rewards you can get!How can I access the Tropical Market feature?In the Coastal Countryside farm, you can access the Tropical Market feature by clicking on Emma at the lower portion of the screen.
Alternatively, you can access the feature by clicking Emma outside the game board.
How can I travel to Tropic Escape?From the Tropical Market event board, click on the Travel button to board the plane going to Tropic Escape.
Note: Before traveling, make sure that you are not playing in full screen as it will not open a new tab.
What are Escape Tokens and how do I earn more?Escape Tokens are specially made for the Tropical Market. These Tokens are used to activate the 2X Boost that will double your produce.
To earn Escape Tokens, you need to travel to Tropic Escape. Then, click the FV button at the upper right to see the tasks and rewards.
Tropic Escape tasks cannot be skipped nor completed using any virtual currency.
Collect as many Escape Tokens as you can to double your produce and win Land Expansions for free!
How do I play?Your objective is to finish order board tasks to get the produce which can be sold in the Tropical Shop to earn Market Coins. Market Coins help you progress and earn rewards.
There is no daily limit on order boards and the progress after reaching the daily limit still counts towards your total coins.
The produce will be changed at the end of the week. In the sample image below, this week's produce is Passion Fruit.
All produce is automatically stored in your Storage.
Upgrade your storage level using Farm Cash to hold more produce!
Earn Market Coins from selling produce at the Tropical Shop to get your daily reward and be eligible for the week's leaderboard.
The price of produce may change depending on the supply and demand. With low supply, expect the demand and prices of the fruit to rise, so sell wisely.
Read the News to learn about the supply and demand for the next price change.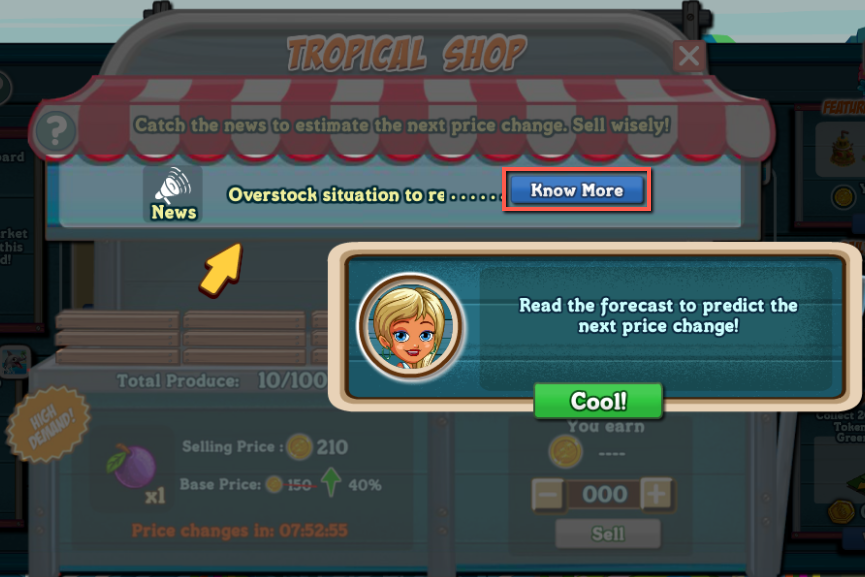 You will also be given a hint about the next forecast change through news flash. Don't forget to check the Tropical Bulletin so you can estimate the next price change.
How can I see my Leaderboard progress?The Top 3 players will be shown on the left. Click on the View button to update and see your total score (Market Coins) and possible rewards.
The coins and ranks reset every week. You get a reward every week based on how many coins you earned during that week.What are the rewards?Daily Reward – You have to score the required amount of Market Coins to earn the daily reward.
Note: There's only 1 Daily Reward.
Land RewardsCollect as many Escape Tokens as you can by doing tasks in Tropic Escape and unlock these exclusive Land Expansions:
Greenhill Beach – 20 Escape Tokens
Resort Glen – 50 Escape Tokens
Holiday Fields – 100 Escape Tokens
Vistaview Plains – 200 Escape Tokens
Sunshade Town – 300 Escape Tokens
Milestone Rewards – As you sell produce, you will also unlock these Milestone rewards once the required number of Market Coins are reached.
Popcorn Vendor Unicorn – 50,000 Market Coins
Pineapple Unicorn – 100,000 Market Coins
Beach Resort Unicorn – 250,000 Market Coins
Tropical Tourist Pegasus – 500,000 Market Coins
Aloha Blue Pegasus – 800,000 Market Coins
Island Adventure Pegacorn – 1,200,000 Market Coins
Tiki Pegacorn – 1,500,000 Market Coins
Leaderboard Rewards – Your weekly rewards will depend on your current standing in the Leaderboard.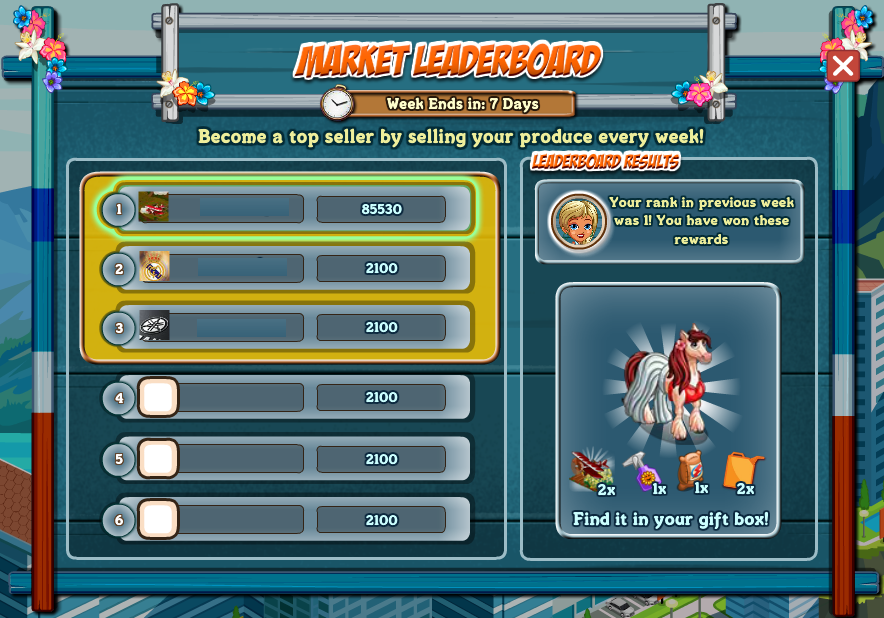 Bonus Rewards – Your Bonus Reward will depend on how much you have earned at the end of the feature. Keep earning big to progress and upgrade your shop!
Note: The more coins you earn, the better the shop you get as your final reward. These are harvestable for 2 weeks!Here are the Feature End Rewards:
Pineapple Drink Hut – Requires 50,000 coins
Fruit Drink Shop – Requires 300,000 coins
Fresh Summer Bar – Requires 800,000 coins.
Island Juice Market – Requires 1,500,000 coins.
Your Bonus Reward can be claimed in your Inbox once the feature ends. Place it on your farm and don't forget to harvest your daily reward.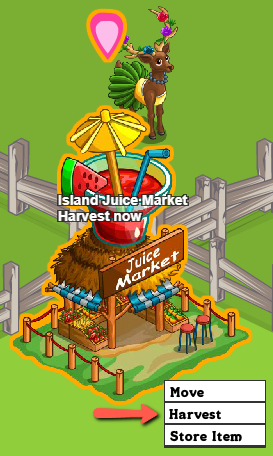 _-_-_-_-_-_-_-_-_-_-_-_-_-_-_-_-_-_-
FarmVille Game GUIDE