Update vom 04.02.Um unsere neuesten Events spielen zu können, aktualisiere bitte so bald wie möglich auf die neueste Version 2.18.0.ELITE-TUNER, KAPITEL 3Mach dir einen Namen und vereine deine Liebe zu Autos mit den Grenzen deiner Vorstellungskraft mit nie dagewesenen Veredelungen. Du hast Laus Ego in deinem letzten Rennen in Kapitel 2 ganz schön verletzt und nun holt sie The TEMPE5T, um dich ein für alle Mal zu schlagen. Du musst dich zwischen Tinas und Annabellas Rat entscheiden und The TEMPE5T zeigen, dass Tashimi X es ernst meint!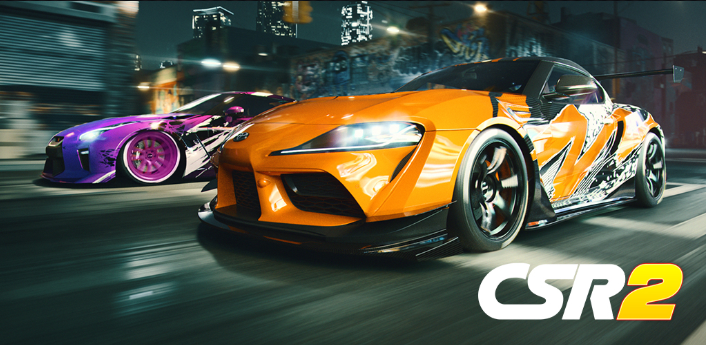 Neue Elite-Tuner-Autos:
SUBARU WRX STI
Mitsubishi Lancer Evolution Final Edition
SUPERAUTO-WISSENSCHAFT:Wegen der Beliebtheit der Superauto-Wissenschaft-Events holen wir sie zurück, damit du dir die weltbesten Superautos sichern kannst, darunter den McLaren Speedtail und den Pagani Imola.

Neue Autos:
Alfa Romeo Giulia GTAm
McLaren Elva
McLaren 765LT
Pagani Imola
FOLIENDESIGN-WETTBEWERB:Wir haben einige absolut geniale Designs im Folien-Wettbewerb erhalten und wir können es kaum erwarten, euch die nächsten Schritte zu präsentieren. Die Auswahl liegt derzeit in den Händen des fantastischen Liberty-Walk-Teams und wir werden den Sieger am 30. Januar verkünden, schau also auf unseren Seiten in den sozialen Medien und auf der CSR-2-Website vorbei!WEBSITE-TIPPS:Vielleicht ist dir die Community-Seite auf unserer neuen Website aufgefallen! Diese Seite bietet unter anderem Community-Tipps und -Tricks, sowohl in schriftlicher als auch in Videoform. Du kannst Tipps einreichen, um deinen Rennfahrerkollegen zu helfen und dein Expertenwissen mit der Community zu teilen. Schau immer wieder vorbei, um zu sehen, welche neuen Tipps geteilt wurden und ob welche davon von dir stammen!SHOWDOWN:Vor Kurzem haben wir eine Spielerumfrage zu unserem ShowDown-Feature gestartet. Die Antworten, die wir bekommen haben, werden uns bei zukünftigen Verbesserungen für das Event helfen. Uns ist auch das allgemeine Feedback zum Cheat-Problem innerhalb von ShowDown aufgefallen und wir wollen euch versichern, dass wir das ernst nehmen und an einer Verbesserung arbeiten. Danke, dass ihr euch die Zeit genommen habt, zu antworten, und uns helft, das Spiel zu verbessern. Haltet die Augen nach weiteren Umfragen offen.SHOWDOWN-LIGEN-BETA:Gemeinsam mit dem Spieler-Update 2.18 startet das neueste Feature ShowDown-Ligen in die Beta-Phase. Zu Beginn wird das Feature nur einer zufälligen Auswahl an Spielern zur Verfügung stehen, während wir am Feinschliff arbeiten. Für weitere Informationen lies regelmäßig die Blogeinträge, um mehr zu erfahren.2.18 AUTOLISTE: Crew-MeisterschaftAlfa Romeo Giulia GTAmTVR SagarisPrestige-CupVARIS BMW M4 GTSPorsche 911 GT3 RSDoppel-CupGinetta AkulaFerrari 812 SuperfastElite-TunerSUBARU WRX STIMitsubishi Lancer Evolution Final EditionSuperauto-Wissenschaft: McLaren McLaren 765LTMcLaren Senna "Launch Edition"McLaren ElvaMcLaren SpeedtailSuperauto-Wissenschaft: Pagani Pagani ImolaViele weitere neue Autos warten im nächsten Spieler-Update …
_-_-_-_-_-_-_-_-_-_-_-_-_-_-_-_-_-_-
CSR Racing 2 Game GUIDE