Hva er Talon?Talon er søsterenheten til den skremmende Mantis. Talon har bedre rustning og våpensystemer, og en annen nivåøkning som er fordelaktig i kamper.
Hvordan får jeg Talon?Talon kan låses opp for bruk i Robotfabrikken ved å bruke 400 kvantekjerner (lilla). Du kan skaffe deg kvantekjerner ved å fullføre allianseoppdrag eller kjøpe elitelagre for å motta dem som tilfeldige slipp.ELLERDu kan kjøpe Talon under tidlig tilgang-ukene. Tidlig tilgang er tilgjengelig for spillere med HK på nivå 8 og høyere.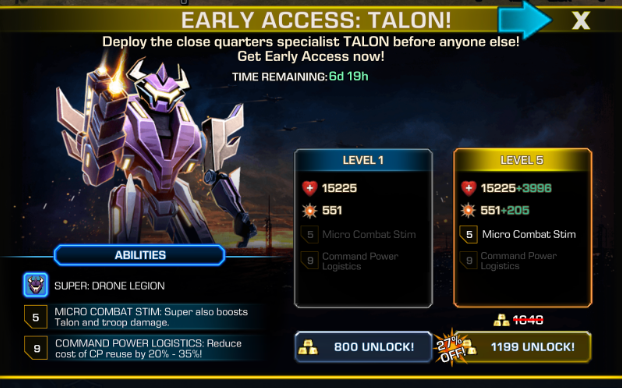 Hva er superevnen til Talon?Talons superevne er at dronelegionen utplasserer en sverm av knusedroner. Dronene kan angripe luft- og landenheter, omegaer og bygninger. Knusedronene er utstyrt med svært sterke laserkanoner som kan smelte rustninger og øke skade over tid. Under utplassering er de beskyttet mot skade av et energifelt i 4–6 sekunder (avhengig av Omega-nivået til Talon). Drivstoffcellene varer i 8 sekunder, og når de går tom eller blir skutt ned, krasjer de i bakken og skader fiendeenheter eller bygninger i nærheten. Antall knusedroner og hvor lenge de er operative, avhenger av Omega-nivået til Talon.
Hvilke nye evner har Gator MK2?1. Kamp-mikroinjeksjonerNår Super utplasseres på nivå 5, utløser Talon kamp-mikroinjeksjon som øker skadenivået fra våpnene til vennlige enheter og bygninger med 5 % i fem sekunder. Allierte må befinne seg innenfor en avstand på 5 enheter fra Talon når Super utplasseres for å få denne økningen.Merknad:
Hvis kamp-injeksjonen for kommandokraft (KP) kjøres sammen med kamp-mikroinjeksjoner, vil ikke fordelene bygge på hverandre. KP gir størst fordel og er dermed den som blir brukt.
Hvis en enhet eller bygning påvirkes av CnC-kjøretøyøkninger når kamp-mikroinjeksjoner utplasseres, vil ikke fordelene bygge på hverandre. CnC-kjøretøy gir størst fordel og er dermed den som blir brukt på påvirkede enheter.
Hvis de nevnte økningene brukes sammen, vil ikke fordelene bygge på hverandre. Økningen som gir størst fordel av kamp-inkjeksjon og CnC-kjøretøyøkning, er den som blir brukt.
2. KommandokraftlogistikkPå nivå 9 vil optimalisert avansert kamplogistikk som er implementert i Talons mainframe betraktelig redusere kostanden av kommandokraft som utplasseres om igjen i kamp for A-10-angrep, Hellfire-missiler, satellittangrep og taktiske atombomber! Evnen aktiveres bare når du utplasserer Talon i kamp. Andregangs bruk må betales med kommandopoeng (KP). Eksempel: A-10-angrep koster 3 KP, og kostnaden for påfølgende angrep øker med 10 KP. Det vil se at det andre angrepet vil koste 13 KP, det tredje 23 KP og så videre. Med denne evnen er kostnadsøkningen 7 KP. Det vil se at det andre angrepet vil koste 10 KP, det tredje 17 KP og så videre.
Hvordan bytter jeg mellom Mantis og Talon Omega-enhet?Gå til robotfabrikken og klikk på Mantis eller Talon i listen nederst på skjermen for å se Omega-enhetens startside. Til venstre ser du to knapper med superikonene til Mantis- and Talon-enhetene. Velg den du ønsker, og trykk på utplasser når du har valgt ønsket versjon.
Hvordan får jeg Talon opp på neste nivå i spillet?Talon tjener XP i kamp på sammen måte som Mantis. Mengden XP som mottas avhenger av skade påført og skade mottatt av Talon under slag.Som med de andre Omega MK2-enhetene, kan også Talon øke nivået opp til nivå 15. Du kan få den raskere opp i nivå ved å bruke 2x XP-økning og Umiddelbar XP-økning. Disse er tilgjengelige i robotfabrikken.Kan jeg øke nivået til Talon Omega-enheten uten å oppgradere HK?Ja. Talon tjener XP og går opp nivåer i angrepskamper, forsvarskamper og via XP-økninger. Oppgradering av HK vil imidlertid øke skaden og helsen til Omega-enheten Talon.
_-_-_-_-_-_-_-_-_-_-_-_-_-_-_-_-_-_-
Empires & Allies Game GUIDE